What we have here is a chunk of records I got at the end of summer/ early fall. I used to do a lot more reviews posts, but my budget for records has been a little tighter lately. That combined with maybe not as many good recent releases, and not as many good touring bands playing in Jersey. The next reviews post will be close to the end of the year, before the annual Best Of 2009 post.
7"s:
Dark Ages- Vicious Lie E.P.
Whatever you're listening to, turn it off and go buy this record. If you're a fan of the No Way/ Grave Mistake/ Sorry State type of releases, this will blow you away. I was impressed by Dark ages demo 7", as well as seeing them live twice last summer. I really get an early Articles of Faith vibe from these songs, but filtered through the speed of the early 80's DC HC bands. It's got a slight melodic tint, but it's fast as shit. Seriously, I couldn't recommend any 7" I've gotten recently any higher.
V/A- The South Will Rise Again
Cowabunga brings you a compilation focusing on HC bands from the southern part of this great nation. My main gripe is that the back cover just lists the bands, but isn't in the right order. The insert is also inconsistent in terms of each band's art/layout. The standouts are Logic Problem, Socialcide and Cult Ritual bringing just what you'd already expect from those bands. Some new bands I found through this were High Life (guess I wrote them off as a party thrash band) and HRT (never heard of em, but they rip). It's really cool that a label from CA would highlight a scene so far away, so you know they're not playing favorites.
Video Disease- s/t
I liked Video Disease's demo, but I think they really improved vastly on this record. The recording quality is still really blown out, and the music is raw, ugly and fast hardcore. Cool layout w/ the info being on an obi strip. I just went to the band's Myspace page, and it seems they're breaking up; I still need their 2nd 7".
Dirty BS- Line of Fucking Fire
I really liked Dirty BS' first 7", so when I saw this in a distro I was surprised since I assumed the band broke up. Apparently this 7" is limited to only 300 and contained out takes from the 7" recording session. I hate to say it, but I'm not that impressed. The songs lack the same fury that the 7" had. It's out of print though, so my opinion doesn't matter since you can't get it anyway.
Migraine- s/t
Kinda similar to Ecoli, this CA band blasts out a ripper of a 7". There's some distorted vocals, (hell distorted everything) and some blazing fast parts. There's an overall heaviness to it, kinda similar to the Slices 7"s, but a lot more straight forward. This record is really good, give it a shot. They have a new record on deck which will be on Cowabunga.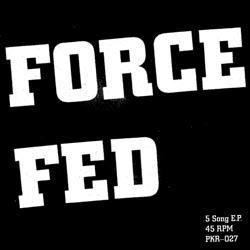 Force Fed- 5-Song EP
Painkiller brings you the debut EP from PA's Force Fed. While it's not as hard hitting as PK's usual releases, it's similar to fellow PA band Let Down's earlier material. They play no frills hard and fast straight edge hardcore. It's got an early 80's meets modern fast HC sound. Pretty good, check it out.
Ecoli- Judas Cradle
Ecoli had a 7" that came out last year that totally came from nowhere and totally ripped. Their sound was similar to faster early 80's bands like Neon Christ, Koro and the Neos. After the first listen I wasn't as into it, but giving it another shot I really started to appreciate it. On this record there's a slight lineup change, but they don't lose any of the ferocity. At times the songs are more structured, at other times they're more frantic and loose. I'd maybe compare it to Die Kreuzen, but either way you need this in your life.
Libyans- Crash Course
This was apparently recorded at the same time as their LP, but is structured more like the
Welcome to the Neighborhood
7". There's a longer song ("Crash Course") on the A side, and a shorter song ("Erased") on the B side.
Crash Course
is certainly not as good as
Welcome to the Neighborhood
, but it's still catchy. I would almost say
Erased
is the better song, since it's a bit more punchy. A good and short 7", but I want more fast songs.
Death Crisis- s/t
Out of the ashes of Life Crisis come Death Crisis, with 3/4 of the final lineup. They continue along the same lines with their Dr. Know sounding hc/punk with metal leads and solos. It's very early 80's California sounding, but a bit more ballsy. There's a few songs with Spanish lyrics, but my basic Spanish comprehension was able to get what they were talking about. The cover art is a bad Photoshop collage, which looks like a bad black metal cover, but don't let it deter you.
the Insults- Thrasher Go Home
Finally, a legit reissue of the classic Detroit band's 7" from the 80's. I hadn't listened to this in a while and forgot how good this 7" was. It's similar to Verbal Abuse in that it's fast HC/punk with metal tinges to it. Similar to their Michigan brothers in the State, this is some essential authentic early 80's HC. Good job Punks Before Profits for resurrecting this beast.
No Tolerance- Boston Straight Edge
I had downloaded No Tolerances demo a few months ago, and was psyched to finally get a real copy pressed to vinyl. From the same masterminds behind Mind Eraser, DFJ and CC this time bring you a late 80's straight edge sound. I hear a heavy Brotherhood influence, as I'm sure that's where they got their name from. I guess this started as a side project, but now they have a full band assembled and will be doing a 7" on Youngblood soon. The somewhat militant sXe lyrics will turn off some, but I think this is real good!
Judgement- Just Be...
This was repressed to celebrate Judgement getting back together to play Chaos in Tejas fest. I was lucky to find this in a distro, but I know they sold out fast. This was Judgement's last (and some might say worst) release, which only had a CD release previously. I would say it's not as strong as their earlier material, but seriously it's impossible to top that stuff. Follows the same Judgement formula of Burning Spirits styled HC with a heavier focus on guitars. It's fucking great, go find it.
Burial- Hungry Wolves
I had a couple of Burial's other releases, but this one had eluded me for a while. It's not new, but this 4 song 7" is perfect. This German band can emulate the Burning Spirits Japanese hardcore style of the greats like no other. Imagine Tragedy w/o the boring cello or piano interludes. This rips, and I just found out they have a new 12" out... gotta find that!
Obliteration- This Is Tomorrow
I liked Obliteration's first 7", and was glad they were doing another so soon. Obliteration is basically the singer of Knife Fight, but with Mind Eraser as his backup band. They play a distorted crust/d-beat influenced hardcore similar to Crucifix or Anti-Cimex. It lacks some of the cliches of the average crusty band, but that's a good thing. I kinda liked the first record better, but this is good too.
Brain Killer- s/t
Boston's Brain killer play with the distorted fury of Japanese bands like Disclose and Framtid, but the vocals remind me a lot of Deathreat. There's a lot of feedback throughout this record, which ads to its all over raw sound. I would imagine this band plays loud as hell live. This is fucking great!
Brain Killer- s/t (demo)
This is a re-pressing of Brain Killer's demo on vinyl, which I had downloaded a while back and loved. Musically it's very similar to the 7", but as you could imagine a bit more raw. Get this as well as the s/t 7" and you won't be disappointed.
Middle Class- Out Of Vogue
Released in 1978, some might say this was the first hardcore record, and I would agree. This was way faster than everything else from that time. Songs like "Out of Vogue" (which was featured in American Hardcore) and "Insurgence" laid the groundwork for American HC, while being influenced by UK punk. Frontier reissued this at the end of last year, and it's about damn time. Mine came on blue vinyl too, sweet!
12"s:
Urban Blight- More Reality
Back in 2004 Urban Blight released a pretty good 3 song 7", 5 years later they release this amazing 12" EP. Their sound has matured a lot in that time, and I think this 12" is a huge step. The recording is real blown out, which totally works, and gives it that authentic 80's HC sound. The music is very early 80's NYHC influenced, think early AF, early Warzone, etc... Real good, and a huge step up from their previous releases. The cover art is kinda weird, I guess they wanted it to look like a DJ's single, which I don't think works.
Death- For the Whole World to See
You may have read the stories about this band online, but basically this is a relatively forgotten band from the 70's that is just now seeing a proper release. Not to be confused with the metal band of the same name, Death were 3 African American brothers who were playing punk in a style of the Stooges, the Buzzcocks or the MC5. This LP is really good, and well recorded for something over 30 years old. Some of the songs are fast, almost early Bad Brains sounding. "Politicians In My Eyes" and "Freakin Out" are like unheard classics. Seriously, this is a great record, with some great authentic 70's looking cover art to make a great overall package.
Paintbox- Trip Trance & Travelling
So this album was years in the making, and after listening to the whole thing I can see why. Judging by the psychedelic cover art, I knew it was gonna be kinda weird. There's their signature rock n roll meets burning spirits style, mixed with some more psych influence and a good amount of trumpets. There's a lot of great guitar parts by Chelsea (RIP), and some female vocals mixed throughout. They really went all out on this one, and while it may seem weird to some, but the only word I can use to describe this is EPIC. Paintbox really likes to straddle the line between traditional punk/HC sounds, and something a bit more experimental. If you're already a fan, you're not gonna be let down, but may be a bit much for a first time listener.
Mouthpiece- Can't Kill What's Inside
In honor of Edge Day recently I got a real craving to listen to some Mouthpiece, but had foolishly sold all of their records when I was getting rid of all my youth crew type stuff. Luckily Rev has re-pressed their discography on vinyl, and I was able to rectify my mistake. Mouthpiece existed in a time after the youth crew style bands, but before the heavy 90's HC sound really took shape. They sound more like bands like Inside Out and Burn, but have a bit of a harder edge like Judge. At the time they were considered a fast band, but by today's standards not so much. It seems like there's a good deal of hype around bands from the early 90's scene, and a lot of them reuniting for the Burning Fight show this summer. With that, it's nice to see Mouthpiece get some recognition. Personally, I kinda have to be in the mood for this style of HC, and I could see why I sold off my Mouthpiece records originally (not to say I don't regret it). I saw them twice in 2001 @ their reunion shows, and they were great. NEW JERSEY STRAIGHT EDGE!