Best 7"s of 2011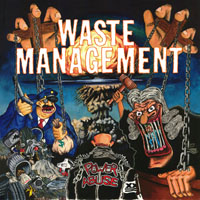 1. Waste Management- Power Abuse (Painkiller Records)
2. Cülo- Toxic Vision (Deranged Records)
3. Stripmines- Sympathy Rations (Sorry State Records)
4. Death Evocation- s/t (Quality Control Records)
5. School Jerks- Control (Cowabunga Records)
Ok, so the Waste Management EP came out as a tape last year, but it was awesome to get these songs for real. Seriously, if there's not a pack of angry dogs singing backup on "power Abuse, I'd call you a liar. Fuckin-A, Culo's 3rd 7" is by far their best. Excellent balance of hyper fast and mid-paced punk. Fuck, it was a real hard choice between 1 and 2. Stripmines are a band that don't get enough credit. I was lucky enough to catch them twice, and they're even better live. Death Evocation is some sort of mysterious side project, but they play 80's sounding heavy metal just the way I like it. School Jerks also dropped their 3rd record this year, hopefully they do an LP next year; it will be a top contender for the best of 2012.
Best LPs of 2011
1. Omegas- Blasts of Lunacy (Parts Unknown)
2. Night Birds- The Other Side of Darkness (Grave Mistake Records)
3. Void- Sessions 1981-1983 (Dischord Records)
4. Vacant State- Fill the Void (Deranged Records)
5. Razor X Fade- s/t (Not Normal Records)
Omegas channeled the sound of their demo, and released a killer LP. Night Birds had a handful of 7"s, but knocked it out of the park with this LP. The Void stuff was mostly not formally released, so I'll count it as new. Sue me. Vacant State is Canada's best kept secret, people need to stop sleeping on this band. Razor X Fade had a hell of a follow up to their demo, then unfortunately seemed to call it quits immediately afterward.
Best demos of 2011
1. Birth Deformities
2. Beware
3. Stab
4. Sick Charade
5. Black and Blue
Ok, so maybe I'm a little biased on the Birth Deformities demo, since I re-released it. But you know what? I put my money where my mouth is, because it's fucking incredible. Beware will be a band to watch next year, my favorite band in PA now. Stab I think will have a 7" soon, and hopefully it's just as raw and crazy. Sick Charade is a new band from Canada with the singer of Reprobates. Just got it, so I haven't reviewed it yet. Black and Blue did a cool demo of Wasted Time sounding HC, hopefully an EP this year?
Reissues:
Citizens Arrest- A Light In the Darkness:
One of the best NYHC records ever. This gets reissued on colored vinyl with 2 extra songs (from comps). This was reissued in a few different LPs over the years, but this is the first on a 7".
Ripcord- The Damage is Done:
The first Ripcord record I heard, so I always regard it highly. While it's more raw than their later records, it's still great. This originally came out as a flexi, so this is it's first shot at real vinyl.
Authorites- Puppy Love + Soundtrack for Trouble:
Another one of my favorite underrated 80's punk bands. No excuse to not check them out now. I recommend Puppy Love since it has the Soundtrack for Trouble songs anyway. Perfect 80's California punk.
Cock Sparrer:
Classic UK punk band gets the proper thick colored vinyl reissue treatment. I've seen past reissues and bootlegs, but they looked like crap. I always loved the Shock Troops LP, so many hits on there. Never listened to any of their other records, but they also got reissued.
No Comment-Common Senseless + Downsided:
These powerviolence masterpieces are back in their original vinyl form. I hated that mishmashed discography LP from the 90's, so this is a way better way to appreciate one of the greats. Downsided is my favorite, but you need both.
Anticipated Releases in 2012:
Boston Strangler LP
- They released a 3 song promo tape this year, but the LP should be out very soon. In fact, it leaked to the net recently and is incredible. Seriously, I listened to it all day on repeat.
No Tolerance- "No Remorse, No Tolerance"
- A limited version of their 7" came out at the Youngblood Showcase, but sold out before I got there. Streaming
HERE
, it's fucking ridiculous. I will make this the #1 7" of the year if it comes in at the buzzer before the year's end.
GISM reissues
- I heard from a very reliable source that all the GISM records were remastered and being re-released this year. You heard it here first kids...
LPs:
Rival Mob, Stripmines, Culo, Birth Deformities. Most of these are recorded already, so hopefully we'll see something before spring.
Discharge singles
- Havoc is currently offering a package of all 5 right now. How cool i that? Plus they'll be releasing an LP with all 5 singles later this year.
Life's Blood discography
- Still waiting on that Prank...
United Mutation and Mecht Mensch discographies
- Coming out on More Than a Witness (the same label that did the CIA discography), both with unreleased songs!
Altered Boys demo
- New band from NJ that kicks ass. If you dig the Shark Attack and Knife fight style of Boston influenced HC, you'll love it. Best demo from an NJ band in a long time.
Predictions for 2012:
More bands influenced by 80's NYHC/ early REV bands-
Seems like I've seen a lot more youth crew/NYHC covers lately. I love that shit, so no complaints here.
Grunge is cool?-
Bands with members who were in hardcore bands, but sound more like Soundgarden. Saw Give and Devotion a this year, and thought I was listening to my walkman in 1992. Not into it. Probably going to be more bands with long hair and wah wah pedals in 2012.
Boston & Chicago-
I seriously feel like 90% of the good new bands I've heard are from either of these places, and I'm sure there will be some new as well as established bands releasing some killer shit this year.
Guest vocals-
Seems like a lot of bands have been having guest vocal parts in songs. I'm way into it, scene unity and all that shit. Way cooler than just having the guitar player yell in one song, call up your buddy.
Pointless reunions-
Without a doubt there will be band reunions that will make you scratch your head. Please for the love of god leave the fedora hat at home this time.
UPDATE 12/29:
I decided to upload a mixtape of sorts, which has a song from each release, plus 3 bonus tracks of releases that will be out in early 2012 that I really like. Download it here:
http://www.mediafire.com/?bexw38518px75qe