This reviews post is real long, but between going to Europe and getting a bunch of records there, and then coming home back to work and accumulating more records. I also wanted to get as much reviewed as possible before my annual
Best Of
the year post. That should happen probably after X-mas. I also added zine reviews, as I seem to have accumulated a few lately.
7":
Right Idea- Right Way
I liked Right Idea's previous releases, but I feel like this lacks some of the intensity they had before. This was released to coincide with a European tour, so maybe it was rushed. The songs seem slower, and the lyrics seem even more posi. My version is the US pressing w/o a lyric sheet, but maybe that's for the best. The US pressing cover is also way uglier, so don't feel bad that you missed out on it, and get the Refuse pressing. The song "United Front" seems like an attempt at an Oi-inspired song, but just sounds like a song from Sesame Street. The record ends with a slowed down instrumental of their song "If You Cared," which is really crappy. I feel like this band could benefit from a raw recording, and I hope they haven't peaked already. Probably more for fans of the youth crew style, but too clean for me.
Extortion- Demo
Demos pressed to vinyl are usually hit or miss, especially if the band recorded the demo w/o the intention of it seeing light as a record. This actually sounds pretty good, certainly not studio quality, but about the same as "Terminal Cancer." A few of these songs were re-recorded, and you get a sweet Black Flag cover. This is really only for the super fans, but sounds good. This is almost out of print, so hurry up, or cry later.
Culo- Military Trend
I liked their Nuke Abuse EP, so I picked up this. The sound quality isn't as blown out on this record, but still fast early 80's styled HC/punk sounding for sure. I didn't realize from their last record, but they have 2 guitars and no bass. What gives guys? Maybe since the recording isn't as raw, it's more noticeable on this record. Maybe it's just noticeable to me being a bass player. This record is good though, check this out.
Slang/ Mind Eraser
I missed these 2 on their recent tour, and I heard Slang was cool, so I got this. Slang is indeed pretty cool, almost an American influenced Burning Spirits style of Japanese HC. Unfortunately, there's only 1 song on their side so it's over in like a minute. Mind Eraser brings 2 songs of their style of fast heavy hardcore. Their songs are on the long side for bands of that style, both topping a minute, but not very memorable. The whole record is like 3 songs in 4 minutes, but I'm left wanting more, especially from Slang. I would only recommend this if you're already a fan of both bands.
Chronic Sick- s/t
Man, I thought this would never see the light of day. This is CS's second record, so I went more in depth on the LP review. These 3 songs are a perfect follow up to those songs. I always loved the cover art, I even made a stencil for a shirt of it. My band Bloodtype is even named after the song "Bloodtype X" from this record. A classic piece on NJ hardcore. I do wish it came with a lyric sheet, though I don't know if the original did. No Way did a great job on this.
Nails- s/t
No, this isn't the Nails from CA, this is Nails from Germany. These guys remind me a lot of the Pedestrians, but with way better riffs and hooks. The first song, "One Fix" was definitely stuck in my head for a while. I remember first coming across them when MRR's blog posted a video link, and made sure to keep an eye out for a record. This may be hard to get in the US, but if you see it, pick it up.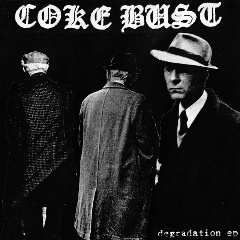 Coke Bust- Degradation
I may be a bit biased on this record considering I just went on a 3 week tour with them, and probably sold over 100 copies of this record. As you know if you read my blog, I really like their Lines in the Sand LP from last year. Degradation picks up where that left off, and has a more raw recording. They even slow it down a bit in "Deathbed," where you can tell what a great drummer Chris is when he's not playing fast as hell for a change. If you liked their previous records, you'll love this. The first press on Refuse is already sold out, but a 2nd press is coming, and a US pressing on Grave Mistake is coming any day now.
Vile Nation- s/t
After being pretty quiet last year, VN return from the void with this short 4 song rager. It sounds pretty different from "No Exit," but that record sounded different from their demo 7". They still play fast as hell, like the Neos, but the recording is more raw than before. The guitar also has a real different, almost an echoey garage) tone, which is pretty interesting. This record is real good, but is over in like 3 minutes.
Urban Blight- Total War
Man, if you've been under a rock for the past year, you know that Urban Blight came back from obscurity last year with an amazing LP. This 7" is pretty similar, with an even more blown out recording. The cover art looks like a Crass or Discharge record, with a fold out poster cover. This is a fucking perfect follow up to their LP. It may be hard to find in the US, but worth tracking down.
Sick Fuckin-O- Sex Cell$ EP
With a name like Sick Fuckin-O, its safe to assume you're gonna get a heavy Infest influence here. However, they pull off the Infest worship, perfectly (similar to Extortion). It also doesn't hurt that this band is fronted by the singer of Voorhees. The 7" was recorded about 2 years ago, but is awesome. When I saw them in Nottingham in Oct however, they were fucking killer. I'm sure whatever they do next will destroy this, but definitely don't pass on this one.
Ruidosa Inmundicia- Demo-04Ruidosa Inmundicia- Hellas De Odio
RI was probably one of, if not the bast band I saw while in Europe. They would just play real hard and fast, and rage with no breaks. They are Austrian, but have a female Spanish speaking singer. Los Crudos would be a good place to start, but there's an Raw Power element in the mix, with some female/male alternating screams. Their 04 demo still sounds great 6 years later, and the sound quality is not like a crappy demo. While is is older material, it's maybe a little less complex than their other records. Still it fucking blazes, and it's got 11 songs. Hellas De Odio is their brand new 7", which I think was closer to what they sound like now. They have a new guitar player, so I'm sure they'll be doing a new record soon that will fucking destroy. I know they'll be touring Japan and Australia next year, so definitely keep an eye on these guys (and gal).
Ohlo Seco- Botas Fuzis Capacetes
This is a repress of Ohlo Seco's 7" from the 80's. All I know about them is that the sing Nada from the A-side was on MRR's Welcome to 1984 comp, and is a ripper. The band is probably the first Brazilian punk band. Their sound is similar to early Discharge. Nada's a great song for sure, and the other 2 on the B-side are cool too. If you're a freak for Latino punk, you need to check this out, but "Nada" is the clear hit on here.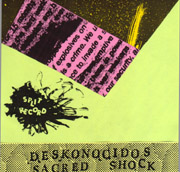 Deskonocidos/ Sacred Shock
This 7" had come out when the 2 bands went on tour 2 summers ago. I really liked Sacred Shock, and wanted to hear this record. Unfortunately it's not a very memorable song on their side, and most likely a leftover from LP track. Desconocidos' side however is actually real good. I saw them in Germany and liked them. They play a mid-paced style of punk and sing in Spanish. The cover are reminds me of an old Lengua Armadas Records cover, in 3 pieces on different colored papers.
BANDS: blank labels on a split 7" is a stupid idea, thanks.
Cold World- Hands Off Our Music
No, not that band from PA, this Cold World is from Austria and have been around since the late 80's. I stayed at their guitarist's place in Austria, and he hooked me up with this record (thanks Dierk). First of all, the packaging is awesome, it's printed on brown thick paper, and has a Japanese style obi strip with a foil stamped logo. The music is fast and heavy, but too punk to be considered crossover styled. The record ends with 2 S.O.B. covers, which rule. These songs were apparently recorded in 1995, but sound fresh, and these were certainly no throw away tracks. For my first Cold World record, I'm impressed, and it won't be the last for sure.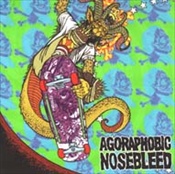 Agoraphobic Nosebleed/ Total Fucking Destruction
First of all, this cover art is fucking awesome. Florian does it again with some 80's skateboard style art. It's almost worth getting for the cover art. This is my first exposure to either band, and both are 2 piece grindcore bands. Agoraphobic Nosebleed are my favorite of the 2, and there's good amount of songs on their side. Total Fucking Destruction is a little weird, there's some electronic drum noise and then an Expoited cover. Kinda funny, but probably wouldn't track down anything else by them. ANB though, I would be interested in hearing more.
Confines- Withdrawn
Boston, Mass must really be the rippinest town. Seems like evey month there's a killer new release from there. This band contains half of Failures on different instruments, as well as members of other notable Beantown bands. The music is heavily later-era Black Flag influenced, while remaining somewhat more mid-paced. The 7" isn't as fast as their demo, but they do re-record my favorite song from the demo, "Downward Harmonization." The record also has a real cool 3-panel cover.
Seein Red- s/t
Seein Red have been at it for a while, 20 years in fact. To honor that, they did an all covers 7", where they pay tribute to some of their favorite Dutch bands. I'm not familiar with the majority of these bands, so I can't say how faithful to the originals they are. I actually didn't realize it was a covers 7" when I got it, but will probably check some of these bands out.
Poison Planet- Undermine
Poison Planet's gone through some changes since their last record, most notably the entire lineup aside from the singer is different. PxP 2010 now contains ex-members of Boiling Over and Cold Shoulder, as well as current members of Raw Nerve, RazorXFade and Skrapyard. I think a lot of Poison Planet's strength lied in Kyle's guitar tone and style of sloppy/technical. The new songs are good, but lack some of that older style. You get 3 new songs, a re-recorded demo song, and a DYS cover (best/only good song off Fire & Ice). Artwork looks like a crust record, but this is some old fashioned HC here. Some may say they should have changed the name, but it's a good record regardless if it sounds different.
Free Spirit- Free Yourself
I absolutely loved their demo, so I was very excited to get their 7". First of all, I HATE the cover artwork and labels. The music is heavily influenced by bands like Straight Ahead and early SOIA, so why not make the cover art look like an 80's NYHC record? Anyway, I have a huge soft spot for those 80's NY bands, so the music is way up my alley. The vocals have a distortion on them, which works for some bands, but I think takes a little getting used to on this record. Despite being on Lockin Out, this record is pretty punk sounding, hopefully they don't take a year to do the next record.
Includes a digital download.
Teargas- s/t
I heard this at someone we stayed with's house in Austria. Man this thing is killer! Very Japanese sounding HC, something like Death Side. The record comes from Australia, but I'm not sure if the band does as well. Either way, you get 4 raw bursts of noisy fast hardcore. I got mine through Havoc, which seems to be the only US distributor. GET IT!
Love Potion- Ejaculator
Man this is a case of
don't judge a book by its cover
if I ever saw one. The cover is a pink old timey looking painting of a kid eating soup, but it's colored white...terrible. However, the music on here is brutal Japanese influenced hardcore that're heavy and fast as fuck. It reminds me a lot of Severed Head of State or World Burns to Death (when both bands were at their peak). With a record called "Ejaculator," you can be sure they're not all serious, but this record seriously rules. This came out last year, but you can probably still find it. They have a new record out, which I need.
Perdition- s/t
Perdition is a band from NYC, which plays a very raw style of punk rock. I would say it's more in a Finnish style, but maybe with some Discharge heavily in the mix. This style is generally very loose, but I feel like on a record should be more tight. This is very good, but could be better. Great live band for sure though.
Sotatila- Viukis Meni
This band consists of 3/4 of Ruidosa Inmundicia, and the drummer of Riistetyt on vocals, and play a Finnish style HC. I really didn't know what to expect before getting this, but this fucking floored me. They play fast as hell crust influenced HC, but therezks some more mid-paced songs thrown in th balance things out. I've honestly listened to this record more than any other this month. Total sleeper hit. You know Havoc's just been doing reissues for the past few years, that when they release a new band, it's gotta be good. They have an earlier 7" out that I need to track down.
12":
Chronic Sick- Cutest Band in Hardcore EP
Fucking finally! I didn't think I'd see the day that this LP got reissued. Chronic Sick is one of my absolute favorites from my home state on NJ. Some of their songs, particularly "There Goes the Neighborhood," are pretty offensive. I was real glad that there's a lyric sheet in here, as well as a poster collage. Musically it really stands on its own, maybe slightly similar to other NJ Mutha abnds like the Worst. There's some 70's rock guitar leads, which I think at the time were considered metal, but by today's standards still punk sounding. There's seriously so many good songs on here, all killer, no filler for sure. I love that No Way did these as an LP and a 7", like the originals, though both are essential.
Meatlocker- s/t
I don't know how this happened, but this band boasts the singer of Voorhees and the drummer of Extortion. I would assume it's a side project since the UK and Australia aren't exactly close by each other. From the member's other bands, you can assume it's not going to be something weak. What you get is some more straight forward Negative Approach-esque hardcore. I would expect somethign just straight forward fast HC, but it has some mid paced breaks in there too. I had been looking for this in the States for a while with no luck, so you may need to get it from someone in Europe, but it's worth it.
Short Fuse- Burnout
I saw this band in Germany and Poland while on tour, and they were one of my favorites for sure. They really reminded me a lot of 86 Mentality, which is obviously a good thing. I know they have a bunch of other records out, but this is their most recent LP, and it's killer. The cover art is real minimal, and so is the music. Basic by the numbers burly, no frills HC/Punk. Will be looking for their other records now for sure.
Taste of Fear- s/t
Taste of Fear was Daryl from Citizens Arrest's band after CXA broke up. If you're familiar with CA's
Colossus
album, it's similar to that. More dark, heavy and metallic, while still having some of that CA intensity. This abnd definitely gets overlooked, but it's damn good. Interestingly, the record says it was supposed to be released in the early 2000's, but was delayed for legal reasons. There's a story to be told there...
Draize- s/t
Draize has been around for a few years, but were pretty quiet last year. After 2 demo tapes and a member change, they've come out with this monstrous LP. While the cover art looks more like a modern Youth Attack release, the music is a throwback to the 90's. Mixing the heavier Cleveland sound of bands like Integrity/Ringworm with the 90's power-violence bands like Dropdead and Crossed Out. I think in the past I've called them a crusty version of Left For Dead. The lyrics are more punk, and I can see them fitting on a show with Tragedy, as well as a show with Pulling Teeth. Definitely check this out if you're into heavier HC.
Direct Control- Bucktown Hardcore
This compiles basically everything that DC recorded that didn't make its way to vinyl yet. On the A side, you get their incredible demo. The majority of the songs from the demo made their way to their first LP, while others were on the
Nuclear Tomorrow
7". The B-side has various comp and demo songs. The coolest is the "War All the Time" demo, which was DC's name early on. The DC demo was actually supposed to be for a WATT split LP. While a lot of songs repeat, and are on other releases, this is perfect for the die hard completists. Also, the A side demo is a perfect introduction to this awesome band. Rad splattered colored vinyl too.
V/A- Welcome to 1984
They don't call it a classic HC comp for nothing. This is a repress that Maximum Rock N Roll recently released, of an international HC comp they compiled in the early 80's. A lot of these songs were re-recorded or released on other classic records, while some bands faded into obscurity. Back in the days before the internet, the best way to find out about bands outside of your scene was the compilation, which sadly no longer is the case. Some of my favorites are Raw Power, BGK, NOTA, Stalin, Upright Citizens and Ohlo Seco. Similar to the old P.E.A.C.E. comp, it's an awesome look at the international HC scene of the early 80's.
Demo/Tapes:
Boston Strangler
(pro-tape)
After hearing about this band for about a year, it was nice to finally hear this band. Fuck, was the wait ever worth it. This is some straight up early 80's Boston style HC worship. I can't think of any other band that reminds me of Impact Unit more (in a good way), with a little SSD, DYS and Deathwish in the mix. Some of these songs are just perfect, especially "If I was You," "Outcast," and "The Truth." If you think this isn't the best demo of 2010, you're just straight up wrong. I hear they just recorded a 7", which I will be eagerly awaiting.
Green Beret
(pro-tape)
Green Beret is a new band from Boston with members of Social Circkle, but playing more Totalitar style. The music has a definite early Discharge, kind of mid-paced d-beat feel to it. It's real fucking good. The art is a real cool screen print and stamped cover as well. I hope they all wear berets when they play, it'd be a good look for sure.
Sick Sensation/ Stripmines/ Devour/ Coke Bust
(pro-tape)
This is a cool release, it's basically like being at a show that happened in Raleigh back in May (which I happened to be at). Instead of just picking and choosing a few songs from each band, you get each band's whole set. There's a LOT of music on here, man. First up is Sic Sensation, which was actually their first show. Not a bad set, kinda early 80's influenced hardcore, but nothing that really stands out. Not sure if they're still together, but they had the drummer of Logic Problem. Stripmines sis definitely a band to keep an eye on for sure. Their demo was ok, but the few times Is aw them live they destroyed. This set was one of those times. Fuck, their 7" on Sorry State will be out literally any day now, and it will be mandatory. They play a fast Japanese meets USA style of raging fast HC/Punk. This was Devour's record release show for their "Insect Circuitry" 7" (which I still highly recommend), so they played that whole EP, and a few songs from the LP. The power kept going out during their set, which is why there's some weird breaks where people yell. This band rules, and is very underrated. Last up was Coke Bust, who played 2 new songs that were later recorded for "Degradation." They played real good at this show, and end their set with a cover of "Serve and Protect" by Citizens Arrest (with vocals by yours truly). Overall the sound quality is about bootleg quality, with one mic capturing it all, but not too bad. If they had set up a bunch of mics to record alive album, the quality would have been better. The tape also has no info or set lists from each band, which I would have liked. It's a real cool release though, and proves that the Raleigh, NC hardcore scene is better than your crappy scene.
Cyborg
(tape)
Cyborg is a new band with a member of Weekend Nachos from Chicago. Similar to WN, they play blazingly fast. The music is a bit more similar to Hellnation, and is recorded a lot more raw. While there's some spots where it's not as tight, with some time I think this could be a fucking killer band. There were 100 tapes, all with a different cover. Mine has Steve Buscemi on it, which is perfect. The sound quality on the demo was fucking terrible, and I couldn't even listen to it, but I had the mp3s, so I'm basing it off that.
zines:
Counterfeit Garbage
#4
Counterfeit Garbage is probably my new favorite zine. They pull no punches when it comes to reviews and rants, and I like that. I really liked the Waste Magement interview, but I'm not into Fucked Up (sorry Matt), and never heard Nukehammer. Some great reads here, I think Matt went our of his way to burn his bridges before moving the China, so the hate meter is way high on here.
Milkshake Fanzine
#4
We had copies of this zine on tour, and sold them all within a week (mostly in the UK). It's a great, real thick zine from Belgium. This issue however mainly focuses on the Washington DC HC scene, along with interviews with Rival Mob and No Tolerance from a show they played in DC this year. This thing is huge, and full of cool photos and interviews. I can be seen singing along to No Tolerance. This thing is thick, and well written, definitely try to find a copy.
Not Of This World
#1
This zine is a real cool 1/2 sized zine w/ interviews with Omegas, Free Spirit, Sex/Vid and some others. My main complaint is that the interviews are kinda old, while still good, talk mostly about things that happened already. There are some cool illustrations/cartoons of some classic HC covers and photos to break up the pages. Most notable is a 3 page in-depth track for track review of the NY Wolfpack LP. I love that LP, even have a "Pack of One" tattoo. Only a few pages of reviews too, but I hope issue 2 will happen for sure.
Ack Ack Ack
#2
This is a photography zine, based out of CA. The photos are from over the past 5 or so years ago. While most are older, the awesome quality and awesome bands make up for it. There's a real life to all of these pictures, capturing a moment in time. It's awesome to see bands like Cut The Shit, Tear It Up and the Rites- all favorites of mine from the early 2000's. Very light on the text; it might have been nice to have a little story about each show, but the photography is the main purpose.
Localized Noise
#1
Localized Nose is a new project by Nick, who does
Play it Loud
blog. Each issue will focus on a particular scene, this first one being Chicago. Seeing as Nick is from NJ, but chooses to focus on Chicago maybe just shows that all the shit I talk on NJ is justified. You get interviews with Weekend Nachos, Raw Nerve, Poison Planet and Iron Rain. While all bands play different styles, they all come from the same area, which links them all together. The zine is well written, though some of the questions int he interview are the same. I would have liked to see a scene report, like the ones in MRR. Something with a list of bands, venues, records stores, show contacts, etc would be a good addition for future issues. The zine ends with 2 pages of short reviews. Pretty good for a first attempt. Also, check the photo of me in the PxP interview from when I filled in on tour.