I've been insanely busy lately, as you can see by the amount of art that was posted lately. Not too busy to buy records, but too busy to write about them. Here you get probably my longest post yet. If some reviews are short, I apologize. First reviews post of the year, and we already have some top contenders for the
Best of 2012
list. Hardcore rules, it's starting to get warmer, get stoked.
7":
No Tolerance- No Remorse, No Tolerance
(
Youngblood Records
)
Here we go! After what seemed like 3 years since the demo, this record finally comes out. I will admit that I had ridiculously high hopes for this, luckily this thing is no slouch, and totally lived up to them. No Tolerance grabs from the slightly more obscure late 80's straight edge hardcore bands like Brotherhood and Confront, which sets them apart from the average youth crew rehash band. Compared to the demo, these songs sound more full and the vocals more harsh. Fast riffs, good breakdowns, even some guest vocals by the Waste Management dude on here. Fucking killer 7", the bar is officially raised for 2012.
Includes a digital download.
Omegas- NY Terminator
(
Painkiller Records
)
Omegas are definitely one of the better bands today, and I loved their LP last year. This record I feel doesn't have any stand outs; "Nazi Rules" is probably the best though. Unfortunately I don't think they'll ever wright a song better than "Gimme Oblivion." I think this record falls flat, bummer. I do think it's cool that it doesn't say the band name anywhere on the record at all.
Peace- s/t
(
React! Records
)
First of all... why the fuck did it take 6 months to get this record? Second, this is literally the worst cover art I've ever seen. It looks like a relaxation CD you'd get at Walmart (and I should know because I designed covers for relaxation CDs that were sold at Walmart). The band has members of Mindset, The First Step and Champion. Before hearing this, I was expecting something like Praise and Sacred Love (based on the name). The record kicks off with the mid paced stomper, "Be Here Now," then kicks into "Let Go," which has a riff reminiscent of "Glue" by SSD. Overall the songs range from mid-paced to fast youth crew influenced HC, though some parts remind me of Inside Out. A pretty good debut release, though it seems to wind down and lose my interest by the end.
Includes a digital download.
Sectarian Violence- s/t
(
Grave Mistake Records
)
SV is a sort of odd side project band fronted by Nick (Coke Bust), with members from the UK and Sweden. Collaborations like this are very cool, and very indicative that the hardcore scene truly has no borders. Obviously there's a hint of Coke Bust in the vocals, however the lyrics deal with more political issues. Musically I get a very early Violent Minds, in that it's fast and raw in your face simple HC. The cover art also looks great, and punk (take note React Records). I like that this band wasn't a 1 shot project, and they've already done 2 tours in Europe, with a US one this summer. Go see them on tour in the US, and say hi to the handsome merch guy.
Includes a digital download.
Bad Advice - Do Not Resuscitate
(
Grave Mistake Records
)
Way back in 2007, I got the Bad Advice demo at the first No Way Fest. They played first and I missed them, then they were supposed to play the after party show and went MIA. The band featured members of the Ladies, Government Warning, Direct Control, Cloak Dagger and many others. Their demo reminded me of Battalion of Saints a little, but I don't get as much of a vibe of that. What you will get is some killed RVA hardcore punk, reminiscent of the boom of good bands from around 2006-2009ish. Glad this finally saw the light of day, too band the band will probably never play live again.
Includes a digital download.
Krakdown- s/t
(
State of Mind Recordings
)
Well, first things first who approved this artwork? Jesus Christ, it looks like something I drew in my notebook in middle school. This is KRAKDOWN, not some Casualties rip off band. If you want to make the cover different, just have the logo solid white on black, w/o the picture behind it. The back cover of the original press was great too, with the dude doing a wall ride. The insert isn't winning any prizes either. Anyway Krakdown, probably known best for their song on the NYHC: The Way It Is comp, had a 7" and I assume some demos. This re-press has the EP plus an unreleased song and "Ignorance" from the comp. I know the same label is planning a discography, so why tack on shit? Regardless, the 7" is killer NYHC, leaning more towards the WarZone and AF side than the youth crew bands of the time. A great record, but a poorly done re-press.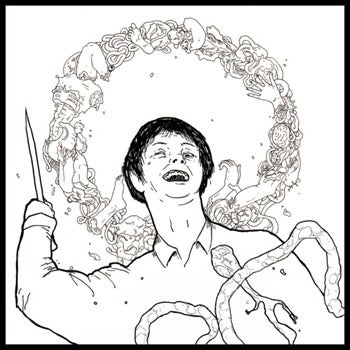 Sick Fuckin-O/ Torn Apart
(
Feast Of Tentacles Records
)
Sick Fuckin-O was one of the best bands I saw in Europe, and I know their last 7" was recorded a while back. This one was recorded more recently, and has a little different sound. The sound is a lot more full and tight. Torn Apart I had never heard of, but they're damn good. This is a very well balanced split, and both bands have a similar vibe. Cover art was by the dude from Extortion, so obviously it's a killer.
Discharge- Decontrol / Fight Back / Never Again / Realities of War / State Violence State Control
(
Havoc Records
)
Fucking Discharge man, one of those great mandatory bands. This band basically invented their own sub genre in punk, that's how good they were. These EPs had been out of print for a while, and rather than just release a "singles collection" LP, Havoc decided to re-press all 5 7"s at once with the original artwork. Even the labels look the same, but obviously say Havoc instead. I was lucky enough to get the package of all 5 on white, but was a little bummed there was no sort of box set, or obi strip binding them all together. Can't complain, because these are all amazing. I still say
Decontrol
is my favorite single, but they're all great. A singles collection LP is indeed coming, but just seriously buy them all before it's too late.
Adrenlin O.D.- Let's Barbecue
(
Psychic Volt Records
)
Definitely a classic NJ punk record, which I don't think was ever reissued. Seriously every song on here is great. Musically they played early 80's style USHC, but added a goofy poppy element to it. They went on to influence bands like Stikky and NOFX. The reissue was also done extremely well. They changed the color on the cover to purple, with purple vinyl to match. The cover stock and vinyl are both nice and thick. Limited to only 500, and I would highly recommend this.
Front Line- Basic Training
(
Beach Impediment Records
)
Front Line was a band from VA in the early 80's, and this is another one of those buried treasure type releases. Musically they're similar to fellow VAHC punkers, but more west coast punk. A mix of White Cross and Red Cross wouldn't be too ridiculous to say. This was all recorded in 1982, and largely unreleased until now. They did a great job with the reissue (unlike the Krakdown 7"), with a very simple 80's HC looking layout. Great job, and a great first release from beach impediment.
Includes a digital download.
Brain Slug- Distort New York
(
Hardware Records
)
I would probably be bold by saying that Brain Slug is currently the best band in NYC. They take musical cues from Citizens Arrest, YDI, Life's Blood; which is more my cup of tea than crusty art student bands. This record delivers 5 hardcore stompers, with thick guitars and evil distorted vocals (similar to the Japanese band, Kuro). As good as this is, I think their live performances blow this out of the water. Hopefully the next record will capture that, because I think they'd have a killer record on their hands.
Includes a digital download.
Face Reality- s/t
(
Youngblood Records
)
Face Reality has been kicking around for a few years, and only now does there seem to be a buzz around them. This 7" is pretty good youth crew styled HC, reminding me of fellow Youngblood alum, Desperate Measures. The vocals are real deep and remind me of early era Turning Point a lot, which is a very good thing. The music is lacking a little bit of grit, but I think that can be improved on the next record.
Includes a digital download.
Sick/Tired- s/t
(
Cowabunga Records
)
This is a band I know nothing about, aside from them being from the suburbs of Chicago. I was expecting something more Weekend Nachos style power violence or grind, but it reminds me more of Haymaker. If these guys were on A389 Recordings, they'd fit right in. They play a pretty heavy style of hardcore, with more yelled than grunted vocals. I like this a lot; apparently they have an LP and another 7" available.
Culo/Tenement
(
Cowabunga Records
)
Usually splits are kinda weird, in that it's usually 2 bands that sound similar, or play together often. Culo play fast dirty early 80's style hardcore punk, and Tenement play a sort of early 90's power pop. On paper this makes no sense, but I'll be damned if this isn't a killer split on both sides. Culo I'm more familiar with, and these 4 songs are just as good as their last killer 7", "Toxic Visions." Tenement I had seen recently on tour with Coke Bust and DOC, so I sort of knew what to expect. They definitely had some hardcore influence mixed in with a sort of quasi Replacements vibe. The 2 songs on here are ridiculously catchy, and makes me regret not buying their other records. This is definitely a split that warrants listening to both sides. Probably already sold out, but good luck tracking it down.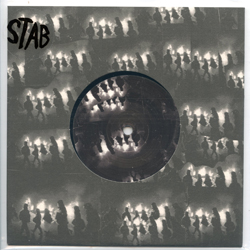 Stab- Nation Rising
(
Quality Control Records
)
Stab is a band from the UK, who take a similar fast noisy approach as bands like Ripcord/ Heresey, or maybe Duress for a more modern reference. They also favor a more blown out recording, reminiscent of Discharge. I thought their demo was real good, and this EP does not let down. Very blown out recorded fast hardcore, hard to mess that up. The cover art is kind of boring, but the back cover typewriter layout is cool. This will be re-pressed on Painkiller in the US.
性交- s/t
(
Video Disease Records
)
So this is a mysterious little record I took a shot on. I can't pronounce the band's name, but I Googled it and it means "intercourse," which is sort of cool. The back story I heard was it's a band from FL doing Japanese worship HC. There's no lyrics inside, which sucks because I was hoping for some broken English. Musically, it's not Burning Spirits styled, which is really the only Japanese shit I care about. It kinda reminds me of Double Negative actually. Not my thing.
Break Away- For Life
(
Mind Rot Records
)
I think by looking at the cover you'll kinda assume what you're getting here, and you'd be right. Straight edge hardcore, with a heavy vibe along the lines of Judge and Floorpunch. Unfortunately being named after a Straight Ahead song, I don't get that fast NYHC sound. I would imagine this would appeal more to the Down To Nothing crowd than the Government Warning crowd in Richmond. The back cover layout is almost illegible, and the insert cut and paste look doesn't fit this.. According to the insert, they have 3 new members, so maybe the next record will sound different?
Hatewaves- Taste The Beast
(
A389 Recordings
)
I caught these guys before Pulling Teeth (which this band has 2 members of) at This Is Hardcore, and really liked them. Maybe it's because a more grind influenced band stands out on a fest like that. The EP is really short, a 5 song 1 sided 7" with no songs going over 1 minute. I think my main problem with a lot of grindcore in general is that people think that since it's so fast, you can neglect writing good lyrics. And lot of the lyrics here seem to reference inside jokes, and I don't care about a song about Facebook. The songs are good though, musically obviously fast and short, though with a heavy guitar tone. Probably worth checking out if you're into the members' other projects.
Includes a digital download.
Pick Your Side- Survival Prayer
(
A389 Recordings
)
Well not putting the name of your band on the front or back cover of your release is a good way for people to not buy your record. If you were feeling bold, you'd find a new project from Haymaker/Left For Dead members. Musically it's heavy, but I feel a little more straight forward, and less metallic. It kind of reminds me of Bury The Living. A pretty mediocre Crucifucks cover (I know that song is cool, but I've heard like 4 other bands record a cover of this). If you're way into Haymaker/ LFD, you should obviously own this. To me this is pretty mediocre though.
Includes a digital download.
12":
Boston Strangler- Primative
(
Fun With Smack Records
)
I'm sure you've heard the hype that it's the best LP in a long time. Luckily, you heard correctly. This LP absolutely destroys the demo, and that demo was fucking amazing. "Primative" kicks in with a long intro, like "Get It Away," and doesn't stop with the constant face pummeling. They obviously show their Boston hardcore influence, and with good reason, because those bands combined a tough sound but were still fast and punk. There are numerous songs on this record that you'll hear, and just say FUCK. They even throw in some straight edged themed songs, and reference their own band name in 3 different songs. "Make You Pay" also has some guest vocals by the Waste Management dude (this dude's becoming like the T-Pain of HC). I don't need to tell you, but this is probably the best record in recent years, and once it's re-pressed, everyone needs a copy. Also liberal use of the words "morons," "cretins" and "chumps."
Stripmines- Crimes of Dispassion
(
Sorry State Records
)
I love Stripmines. Their demo and 7" were cool, but didn't come close to capturing their live sound. Luckily on the LP, they got it right and it's fucking awesome. Musically, they pull off an early 80's USHC meets classic Japanese HC sound. The vocals are powerful, the drumming is tight, the guitar wails and the bass is nice and thick. Bands like Deathreat and Talk Is Poison would be a similar mindset. The lyrics are very dystopian, and the gray dismal cover art fits perfectly. This may be my favorite Sorry State release, go see them on tour in July.
Includes a digital download.
Man Lifting Banner- The Revolution Continues
(
Crucial Response Records
)
Man Lifting Banner may be my favorite European straight edge band of all time. This double LP comprises their entire discography. However rather than throwing on a live set or demos to fill out all 4 sides, they recorded 7 brand new songs. A terrible idea in less capable hands, however MLB manage to crank out songs that are fast and politically relevant. Imagine if DYS still gave a shit about HC, maybe they would be this good. MLB has always been a political band, and in the current state of affairs where human right s are chipped away daily, these songs sound as urgent as they did 20 years ago. Bands who try to put politic in the forefront tend to overlook writing good music, but not them. I also liked their pro-Communist stance, which I feel is probably still controversial. If you're a fan of their later bands- Seein' Red, Mainstrike and a few more; you need to get this. The layout is full color with lots of Occupy Wall Street protester photos. Great discography, great new recordings.
Includes a digital download.
Shipwrecked- The Last Pagans
(
Crucial Response Records
)
Shipwrecked released a 7" back in 2005 that largely flew under the radar until recently. This LP should be receiving just as much, if not more hype than the Boston Strangler LP. This record is perfect, and you get 21 songs. The first song, "Fast Violent Noise" sets the pace for what you're in for here. The music doesn't rely on being fast or hyper distorted, it keeps things at the perfect balance. Shipwrecked knows how to write a catchy mean chorus. Taking musical cues from UK oi bands and the early 80's Boston HC bands. What you get is a mid paced forceful wrecking crew. Who cares that this record is an expensive import, it's fucking awesome.
Includes a digital download.
ETÆ- All Possibilities Will Come from There
(
La Familia Releases
)
I had never heard of ETÆ (nor do I have any clue how to pronounce their name), but the description I saw online sold it. They're a Japanese band, similar to Paintbox, in that they combine Burning Spirits style hardcore with more rock influences. However, ETÆ choose to mine 80's metal for their rock influence. There's some serious Iron Maiden riffage here, which is fucking awesome in my book. Looks like this LP is either a discography, or a collection of previous material. Either way it's awesome, glad I gave it a shot.
Plow United- Sleepwalk: A Retrospective
(
Paper + Plastick Records
)
Way back in the mid-90's I got into the punk scene through pop-punk, especially local bands. I never did get to see Plow United back then, though I had a majority of their discography and always loved them. When it was announced they were playing Riot Fest last year, I was stoked, and even more stoked that a double LP was being released. Though I'm shocked that anyone outside of the PA/NJ area knows who this band is, I'm glad that now they will. Much like the Descendents or Grimple, Plow United knew how to craft an amazing love song as well as a goofy fun punk song. Interestingly enough this collection isn't a complete discography, but sort of an expanded greatest hits. They boiled their 3 LPs down to a side on an LP, and picked a bunch of songs from EPs to fill out the 4th side. Naturally there's some songs I feel were omitted, but this is the band picking and choosing their favorites. The layout is packed with photos, flyers and some writings from admirers. Unfortunately no lyrics, but the overall look is great (shout out to PW). In the unlikely event that they do tour, go see them, but I don't use a Descendents comparison lightly, so if you like late 90's pop-punk, give it a shot for your own good.
Includes a digital download.
Heresey- 20 Reasons to End it All
(
Boss Tuneage Records
)
I'm guilty of not celebrating Heresey's entire catalog, so all of these songs are new to me. This collection comprises their later records and some BBC sessions. In my American ignorance, I always imagine bands recording live at the BBC next door to like a Doctor Who episode being filmed. The playing is a lot tighter, and the recordings are a lot cleaner (in relative punk terminology) than their early records. I like this a lot, and Boss Tuneage did a great job with the gatefold cover and colored thick vinyl.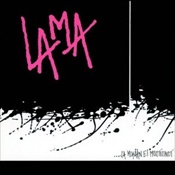 Lama- Ja Mikaan Ei Muuttunut
(
Svart Records
)
Lama is one of those bands I love by know literally nothing about. I heard them on a tape my friend made for me years and years ago, then someone had posted an EP online which had 4 songs I recognized from the tape on it. Obviously googling Lama is not going to easily give you info on an obscure band from Europe in the 80's. I don't even know where they're from (Finland?), because nothing on the record is in English. Musically they play a mid paced catchy style of punk. Somewhat reminding me of Upright Citizens. This LP collects their 4 EPs, and I would say worth the import price.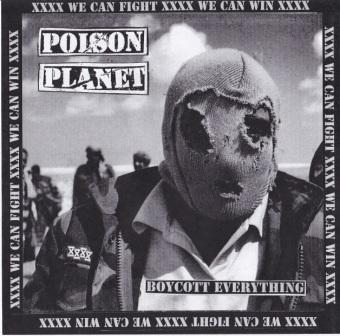 Poison Planet- Boycott Everything
(
Third Party Records
/
Not Normal Records
)
This is PxP's 3rd record with the current lineup, and I think they come into their own on this one. Musically still early 80's influenced, fast, political lyrics. However, adding a little bit of Dead Kennedys style leads here and there hasn't hurt at all. It's unfortunate that bands like this will go over the heads of most modern straight edge bands, who are more concerned about limited edition hats. Poison Planet has always had something thought provoking to say, in the liner notes, they explain their manifesto thoroughly. Reminding me of the Man Lifting Banner record, bands with extensive liner notes seemed to flourish more in the 90's, and sounded a lot more boring. This was re-pressed in the US as a 1 sided 12" (the European version was a 7") with new art, a screened B-side, expanded liner notes and posters.
Demos:
Altered Boys
(
RTF Records
) (pro-tape)
Altered Boys are a new band from NJ, who somehow managed to crank out the best demo from here in a long time. They remind me of bands like Knife Fight and Shark Attack, who were heavily influenced by bands like DYS and Negative FX. The music is real no frills fast hardcore, with some angry lyrics. The first song "Ask a Punk" is a verbal middle finger to the old guard of the local scene, where relying on word of mouth turned into an elitist social party. Fuck that! Also, what a fucking great band name.
Violent Future
(pro-tape)
Toronto's newest export, Violent Future, remind me a lot of fellow city coremen Urban Blight. Then I found out they share a member, and wasn't surprised at all. The music is very much along the lines of the mid-paced/slower UB songs, with a very UK82 slant, but having a sort of Boston HC toughness to them. All the songs are around the same speed, with no fast parts. It's real slam dance music, which I like. This is easily my favorite demo I've heard all year so far. Lace up your boots, and get "Goon Life" tattooed across your knuckes and hit the pit!
Violent Reaction
(
Mind Rot Records
) (pro-tape)
Similar to Boston Strangler or Major Damage, this is a 1-man demo project. Also similar to BS, it rules and is heavily influenced by 80's Boston hardcore. Overall, it reminds me a lot of Punch In The Face. Really good short blasts of early 80's no frills hardcore punk.I hear a 7" is in the works, I'm sure it will be killer.
The Outs- We're On...
(
Not Normal Records
) (tape)
I love bands with female singers when the music is good, luckily this is on e of those cases. The Outs feature 1/2 of Poison Planet, but lean toward a more punk sound. I like this demo a lot, as a sucker for punk bands w/ female vocals that aren't lame. Really good blown out recording quality too. The singer generally screams, but then shows some vocal range on a Bikini Kill cover at the end. Would be cool to add some scream/sing elements in the future. Great demo.
Pure Scum
(
Sorry State Records
) (pro-tape)
Pure Scum is a new band from NC. Apparently the band is all real young, which makes "To Hell With School," and "I Hate The Mall" relevant song titles. Musically it's heavy and mid-paced, but diverse enough to stay interesting. "Road Rash" has an almost Dead Kennedys vibe to them. The covers are all screen printed, which makes it look really cool too.
Includes a digital download.
Sick Charade
(tape)
Sick Charade is a new band from Canada with the singer of Reprobates. I was real into that band, so I was stoked to see what he did next. Not quite as good as Reprobates, but leans more toward the Formaldehyde Junkies. That's not a bad thing in my book though. The cover layout is pretty hard to read though.
Mislead Youth
(CDr)
Mislead Youth is a new band from DC with a member of Coke Bust. They play a more punk style, but still pretty fast. 1/2 of this band has the last name Jubert, and 1/2 of the band is on probation for doing bad kid shit. The music is fast and punk, somewhat reminding me of Life's Halt. Really cool demo, hope to see more from these guys.
The Storm
(CDr)
I got this demo off someone I bought I shirt from, so all I know is they're from upstate NY. Judging (no pun intended) by the name, I would assume they would be sounding like Judge. I'm not too far off, I get a very 90's heavy hardcore influence here. Not really my style, so I'm not sure what to compare it to. It's not bad, but just not my thing...
Zines:
PAINS Hardcore Fanzine #6
This is my first time reading Pains, and I really like it. It's a short cut and paste style zine from Toronto; with interviews/ features with Omegas, Boston Strangler, Urban Blight, Rival Mob and Born Bad. Killer lineup, so you know they have good taste. My only minor gripe is there's no band logos to break up the start of the next feature. Very cool "Best Hardcore songs of 2000-2010 feature to end it.
Counterfeit Garbage #6
I've been a fan of CG for a while, but I might say this is their weakest issue (not just because my band got a bad review in it). The only interview is with Sweet Tooth, an alright band, but hardly a band you base a zine around. Chock full of reviews, plus a review of an Omegas show, where the writer didn't seem to watch any of the other bands. The best part is the article where Matt talks about his insane trip to Japan to spend tons of money on rare records. Much respect to that, there's even a center spread of all the records.
Punks Punks Punks vol. 5
I was not a big fan of the last issue of PUNKSx3, but I wills ay this is a definite improvement. The paper is nice and glossy, and the writing is a lot better. I wish they'd get rid of the "punks agree" and "punk points" parts. You get interviews with Noos, Peace, Needles and a too short interview with Henry Rollins. The Noose interview is my favorite basically for Kyle's responses. The layout is overall nicer than the last as well, I'm glad this zine is getting better. I get the vibe that these dudes are young, so I'm sure in a year, it will be even better.
Chunks #4, #5
Chunks is easily one of the best zines going today. They seem to keep to a standard format of 12 pages (3 pieces of paper, printed front / back and folded), basic cover art (logo in the corner with large band photo), along with reviews and killer features. Since both zines are so short, I'll review them both at once. Ironically the 2 main interviews aren't done with the band members on the cover. Issue 4 has interviews with Free Spirit, reviews of every WNYU Crucial Chaos show, a write up about Massappeal (with some sick flyer art) and a game of word association with Mark porter (Floorpunch). Issue 5 has interviews with Stick Together and Night Birds, a reprint of an ENUF interview and a collection of good live banter. For being a zine from Australia, they seem to focus heavily on the north east coast (Boston/NY) hardcore scene. The reviews are all short and to the point, rarely exceeding 3 or 4 sentences. Overall, this is easily mandatory reading material if you care about the current hardcore scene.
Greatest City in the World #2 / Shit Sheet #3
I haven't seen a split zine in a while. Pretty cool, but I wish it wasn't bound with staples on the side. GCITW has interviews with Milk Music, Night Birds, Dos and Night Birds, where SS has interviews with Leatherface and Negative Degree. While I like the bands in SS more, I found it very hard to read- small font, white typewriter font on black cut and paste.
Some cool articles in the GCITW side, and the NB interview is cool.
Potential Friends #3
PF is a short half paged zine based out of Chicago. Some writings, record reviews, a show review and an interview with Haka (new Chi band, cool demo). It's also got some cool show photos. Lots of Chicago centered content, but Chicago's pretty rad, so no complaints here.
Excitement Level Zero #?
Not sure which issue this is, I assume it's not the first. The front starts off with a manifesto of sorts on the current trend jumping hardcore scene. I couldn't agree more. There's no writings, or political musings here, what you get is a bunch of interviews and record reviews. Stripmines finally get their due with a long interview, and an in depth Boston Strangler interview. Youa lso get interviews with Crazy Spirit and Accept The Darkness zine. I get the vibe that the interviews were conducted about a year ago, that or this zine is a little old. Either way, I like the no BS approach, and the layout is a traditional cut and paste format.
Don't Be Swindle # 1
DBS is a zine for fans of the fast. Interviews with Looking for an Answer
,
ACxDC
,
Hummingbird of Death, Bastard Noise & tons of reviews. For a half size zine, it's real thick. Cool photos, nice columns and show reviews to boot. Clean computer layout too. For a zine that focuses on bands that write songs under 60 seconds, this is a nice chunk of zine.
Scion Metal Zine #5
Ok, ok so this isn't a "real zine," and people have mixed opinions on Scion co-opting the HC scene. Here's a newsflash Scion, there's no money here. So what you get here is a mass produced/distributed zine that's free. You get interviews with Cro-Mags, Repulsion, Wormrot, Landmine Marathon, and John Baizley (Baroness). It's obviously got a pretty clean computer layout, but keeps traditional to the standard black and white zine look. I mean based on content alone, it's a solid zine and there's no actual car advertisements inside.