Ok, so here's the rest of the stuff I got recently. I've gotten a lot of demos lately, which is great. 7"s seem to pile up a lot quicker than anything else, and there's a lot of future classics out there. Some of there are still unreleased officially, and I was just lucky enough to snag tour pressings.
7"s: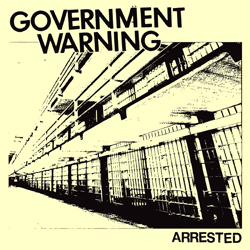 Government Warning- Arrested
So the new Government Warning EP is finally out. They'd been playing the song "Arrested" for a little while now. It's kind of more mid paced, but just as catchy. The rest of the songs are more in the faster GW style. Government Warning are the best current band going, so obviously you're going to get this record.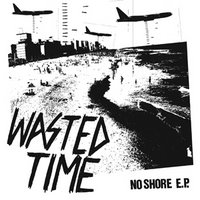 Wasted Time- No Shore
If you thought the last Wasted Time record ruled, you're in for a treat; this new one is even better. Still fast and aggressive in a Poison Idea kind of way, but there's an almost Deathreat style heaviness to it all. They're really improved a ton over the past year since Brandon (Direct Control, Gov't Warning, Municipal Waste, etc) has been drumming for them. Even if you were kinda on the fence about the last EP, this is really great and should make more people take notice.
Life Trap- Bleak Reality
This came out of nowhere, the demo songs online were cool, but holy shit! These guys are all pretty young; but play faster, tighter and better than most bands twice their age. Fast songs about frustration and rage. At No Way Fest they covered Koro and Articles of Faith, and I can't think of a better comparison.
The Ergs- BlueThe Ergs/ Grabass Charlestons
The Ergs' new record assault continues. "Blue" is a song from an old demo that's finally seeing the light of day on a 7" that's got a blue cover and blue vinyl w/ a B-side being a cover of the song "Blew" by some crappy 90's alternative band. If you're a fan of the earlier Ergs stuff, the song Blue is more of the speedy pop-punk you'll love. The Grabass Charlestons I was never too keen on, but these songs sound cool I guess. The Ergs side has a few songs they've been playing live for a while. I'm glad all these Ergs songs they've had demos of for a while are finally seeing the light of day with official releases.
Socialcide- Sick of the PressureSocialcide- Burn in Hell, Bundy
Sick of the Pressure is a reissue of the demo, which I loved and
already reviewed.
If you missed out on that, I highly suggest you get this then. In the time that passed since recording the demo, Socialcide had a few lineup changes, and sound even better. The new record picks up where the demo left off, and will leave your head spinning. I don't know what's in the water in Richmond, VA; but there's a ton of awesome bands down there.

Forced March- Wasted ExistenceRaiser/ Forced March
Forced March play some raging fast heavy hardcore, in a similar way to bands like the Holy Mountain, Deathreat or From Ashes Rise. Pretty fast for the crusty crowd, but there's political lyrics. The Wasted Existence EP has some cool art with one of those obi strips. The layout on both records is a little plain. Raiser is from Spain, and play a somewhat similar style, but with some more metallic guitar tone.
Fighting Dogs- s/t
Fighting Dogs were a band from Philly up until recently. They have a female/male vocal attack, with some raw crusty metal music. I was lucky enough to snag this EP at their last show, but the real pressing isn't out yet. They revisit "the Witching" from their demo, and add some more guitar parts. Bands like this always seem to be lacking on a 7" format. Their songs are pretty long and complex that I wish they had an LP worth of material. Unfortunately they are no more, but if you're into crusty Japanese influenced punk metal, check em out (RIP).
Total Abuse- Sex Pig
Remember the Snobs? Well they grew up, and are playing some awesome retro sounding hardcore punk again. They sound more like Koro and Negative FX than the Dischord worship of the Snobs. It's real fast tight noisy hardcore punk, and it's damn good.
Life Crisis- Churchstate
Ever wondered what would happen if you crossed Poison Idea with DRI and the Circle Jerks? The answer is Life Crisis. They play some fast raging California styled thrashy hardcore, it has a skate punky feel like RKL. Some smart political lyrics to boot about religion and government.
Sex/Vid- Tania
I suppose they're sorta hyped in certain circles, not around here though. Sex/Vid play some really cool low-fi hardcore punk in a similar way to bands like Career Suicide or Terminal State. It's pretty noisy and the sound quality isn't great, but most of my favorite 80's hardcore records sound like crap too. Good luck finding it, their first EP sold out in no time.
Ecoli- Rape
I saw this listed in a distro described as "for fans of Koro and Neon Christ," and that's a hell of a sales pitch. It doesn't let down either, this is some fast shit here, but doesn't tread into the crossover or power-violence genre. This seems to be a part of the ever growing younger California thrash scene. Good stuff for sure.
The Blinds- s/t
I
LOVED
that demo they put out a while back, so I was excited to see that they recorded again. The songs are a little more complex than the demo songs, and it's not bad. I was just expecting the same raw sound of the demo, but it's still got a fast tight Angry Samoans style sound. The cover art looks like it should be in color (mine's in black and white), and there's no insert or lyrics. I hear their LP is good, but I haven't picked that up yet.
Destroy L.A.- Vandalize
This kinda reminds me of early DRI mixed with some Nardcore, but the singer's voice kind of reminds me of Grimple a little. Pretty good thrashy stuff here.
Sick Fix- s/t
Sick Fix re-visit last year's demo, and re-recorded the whole dang thing. Since I
loved the demo
, I needed no convincing to pick up this. The guitar tone sounds a lot heavier, it could be from a better recording quality. It almost sounds like it's a different tuning maybe. Either way if you're into heavy power-violence type stuff with sXe lyrics, you win. Musically it reminds me of Infest and Failure Face, but the vocals are similar to Look Back and Laugh.
0DFX (Zero Defex)- War Hero
(1983 demo)
For those not down w/ 0DFX, they were a hardcore band from Cleveland, OH in the 80's. I would categorize them in the same league as mid-west greats like Negative Approach, the Fix, Mecht Mensch, etc. Great to see more stuff by them becoming available. Another demo 7" is coming out shortly.
V/A- Demolition Series #1
The first of hopefully many Demolition compilations compiles 4 7"s of bands' demos (get it... DEMO-lition). Each record is limited to 200 ever, and the set is limited to 155. Obviously since the bands recorded this stuff as demos, the sound quality varies, but is surprisingly good.
Rabies- Before the Disease
compiles a few demos they did before the Disease-core EP. The A side is a little rough, but the B side is a lot more like the Rabies we know.
Cross Laws- Can't Sleep
is a 1 sided 7" with some good early 80's mid-west influenced old style hardcore punk. This record is probably my favorite in the set, and I still need to track down the new EP. Despite the sloppy cover art, the
Vile Nation- s/t
record is pretty raw and has a sweet NegFX cover.
Chaotic Mess- Bloody Fetus in the Toilet
looks and sounds like a California thrash record, like Suicidal Tendencies. Good luck finding this bad boy, it was pretty much a mail-order only type deal.
V/A- Mass Confusion
This record came with issue 3 of the Big Hurt fanzine. The zine is a great companion to this record, since it has interviews with every band on here. Most of the bands seem to be from the Chicago/ Toronto area. There's a good variety of punk and hardcore on here. My favorite song is the Terminal State one. I'm not sure if the rest are previously unreleased, but I know the 86 Mentality one was on their last record. I don't think the record and zine stand alone well, but make a great pair.
demos:
Bad Advice
(CDr)
Sweet new band with some familiar faces from VA (Government Warning/ Direct Control members). This is pretty fast, but more straight up punk than hardcore sounding. This kinda reminds me of Battalion of Saints. There are some mid-paced upbeat songs, and the last song's actually kinda slow, but really good. It says inside they're going to do an EP on No Way Records, so you know you're gonna like it.
Civic Progress
(tape)
Some members of Cardiac Arrest play some pretty ripping hardcore. Sound reminds me of Negative FX a lot, pretty fast early 80's Boston style HC. Pretty similar to other St. Louis, MO bands like Cardiac Arrest (obviously) and the Breaks. They have a song on her that bashes Crimethinc on here, which is pretty cool.
Guilty Faces
(tape)
Some good old sounding punk with ex- Ratbyte members. This has a more mid-paced sound kinda like the Adolescents or the Faction. The singer, Tommy's voice is really raspy, which gives it an added edge. There are a lot of cool guitar leads, which is pretty cool. Kinda similar to the Bad Advice demo, someone do a split 7".
Life Crisis- Political Religious System
(CD)
This is the pre-release for the new 7", which wasn't ready in time for their tour. The CD looks to be pro-printed, which is kinda cool. This is a little heavier, in a DRI sense, than their last record. It's still ripping fast, with short songs. A little lineup change, but still fits in the same style as the previous EP.
Retard Strength
(tape)
I got the limited edition "Jeff DeSantis" pressing of this demo, so I don't now if this is the same thing they've been selling. I know they just recorded for a split 7" with Concrete Facelift. Despite the silly name, Retard Strength actually plays some pretty awesome hardcore punk, which reminds me of some of the bands on the "Not So Quiet on the Western Front" or Middle Class. Pretty low-fi fast hardcore punk with a spastic singer (with the best vest ever). Keep an eye out for these guys.
Zhenia Golov
(CDr)
Zhenia Golov, from NJ, with members of some other local bands, but this is much better than their past efforts. The sound reminds me more of heavier crusty hardcore punk bands like Wolfbrigade with politically minded lyrics. Some good raw distorted crusty hardcore here, which very rarely pops up around these parts. The guitar sounds a little low, but I think they just recorded for a 7", so I'm sure the quality on future releases will be more evenly mixed.
Always Aware
(CDr)
Some pretty generic sounding youth crew straight edge type stuff here. I think they have a member of Expired Youth, which were kinda similar. I could see people stage diving and finger pointing to this, but it's really nothing new. It reminds me of the late 90's youth crew revival, but I guess bands like that are a little more scarce these days.
Pitfall
(CDr)
Despite having an S.O.A. cover and a bunch of samples, I can't say I'm too into this. While it is kinda fast, it's got some almost metal breakdowns. I'm not too into that stuff, but it kinda sounds like early Cro Mags I guess.
Plead the Fifth
(CDr)
They were sending these out for free, so I suppose I can't complain too much. The recording quality is pretty good, but the packaging leaves much to be desired. I guess this would be considered more like faster modern hardcore- something like Ceremony, with fast parts and mosh parts.
Hit the Books- Read Fast, Die Young
(CDr)
OK, Scholastic Deth did the whole thrashy punk about books and stuff years ago. These guys play some fast thrash punk with most songs clocking in around a minute. The playing and recording quality needs to get worked on, but I'd rather hear this than most jock metal core that's big these days.
Oh, and my band, Wormeaters has a split demo tape w/ the Kanamits out. Get in touch w/ me if you want to order one. Both bands share members and both play fast hardcore punk. The Kanamits play some early 80's California style fast hc/punk with a female singer. (For fans of Sin 34, No Thanks, I Object) Wormeaters play a more aggressive angry style of early 80's influenced hardcore with dystopian political lyrics. (For fans of Negative Approach, Mental Abuse, YDI, Agnostic Front)
http://myspace.com/kanamits
http://myspace.com/wormeaters