So this post took longer than I expected. Between getting busy with work and life, and getting too many records in a short period of time. Lots of killer releases, particularly Omegas and Culo. If those 2 don't end up on my top 5 of 2011, I'd be shocked. I made sure to pick up 3 of the new Lengua Armada Records releases, since they seem to be hard to find and sell out real quick. Unfortunately only one of them is worth tracking down. Sorry if some reviews are shorter than others. there were a lot to get through.
7":
Citizens Arrest- A Light In the Darkness
CA had these 7"s made to coincide with their recent (and subsequent) reunion shows. This is maybe the 3rd or 4th time these songs were reissued, but to my knowledge the first on its original format. As an added bonus, you get 2 bonus tracks from the same session that were used on comps. The layout has also been updated to a gatefold, which looks great. For anyone not familiar with Citizens Arrest, they were a HC band from NYC in the late 80's/early 90's. They played fast hardcore influenced by the early 80's bands, but played way faster and harder. More similar in style to Infest than Madball. Available on 3 colors of vinyl for the collector scum, and absolutely mandatory NYHC.
Authorites- Soundtrack for Trouble
One of my favorite early 80 punk 7"s gets reissued with 2 bonus tracks? Sign me up! I love the Authorities, who I first discovered through the first Killed By Death comp. All 4 of the songs from the original 7" are hits for sure. "I Hate Cops" and "Radiation Masturbation" are the best. The artwork is an exact copy of the original, adding the 2 bonus tracks of course. One of the 2 were on the Puppy Love LP, while the other is new to me. In all honesty, they're not as strong as the others, and probably could have been left on the cutting room floor. However it is cool that it's got more music for your buck. Someone sell/trade me a copy of the "Puppy Love" LP.
Cülo- Toxic Vision
Some bands slow down and fall into a pattern after a few 7"s... Not Culo. This is by far their best 7". The recording quality is good, it's faster and just overall a fucking killer record. They even slow it down to a Zero Boys pace on "Toxic Vision." I love this shit. Funny story, when they played in NJ last year, I missed the show because I was baking a wedding cake. That cake sucked, I should have gone to the show.
Sorry Excuse- s/t
I liked Sorry Excuse's previous record, so I jumped at pre-ordering the new one. They play a fast almost Infest speed of hardcore, though not straying into power violence territory. More just fast as shit HC with gruff vocals. The recording is a lot more raw, and faster than their first 7". Their sound is almost like a tougher version of Coke Bust. Try to check em out on their summer tour w/ Kicked In (who also rule).
Reckless Aggression- Demo
This is Reckless Aggression's demo pressed to vinyl. Seemed like a lot of people had this record on their best of 2010 lists, and after getting it in my hands, I can see why. They are a skinhead band from Australia, and play oi influenced hardcore, not unlike 86 Mentality. The best thing about this is that there's 9 songs (one's a 4-Skins cover), so it's not one of those lame 4 song demo 7"s. Definitely try to find this quick, because there's only 500 pressed.
Includes a digital download.
Vacant State- Internal Conflict
I literally know nothing about this band, or when this record came out. I read a writeup in a distro, and it seemed cool, so I gave it a shot. Boy am I glad I did, this thing is incredible. It starts out fast and raw hardcore, reminiscent of Cardiac Arrest of Black SS in the vocals. As the record goes on, the music slows down more an more, ending in a slow dirge that takes up the whole B-side. At times it's like Slapshot, other times My War era Black Flag. This is apparently their 2nd 7", so it looks like I have to hunt down the 1st now. Don't judge it on the weak cover art, check this out, because it's fucking awesome.
Born Bad / Duress
It's a shame these 7"s didn't come out in time for their tour over the summer, because now both bands are dead. Born Bad's sound is more focused, and some of their best songs.I remember hearing that they recorded an LP worth of songs, but decided to break them up into a 7", a tape and this split. Duress's side is ugly feedback drenched fast hardcore. With only 3 songs on here, it's over before you get a chance to catch your breath. I always loved Duress, so it's kind of a bummer that this is the last new songs to come out.
School Jerks- Control
I loved School Jerks' previous 2 7"s, so I was psyched to pick this up. SJ really nail that early Black Flag vibe, complete with a raw 80's style recording quality. On this record, I get a Necros vibe as well. Funny how the record is called "Control," but there's only lyrics to one song, and it's not "Control." Considering their other 7"s had no lyrics at all, I guess it's better than nothing. Hopefully they do an LP soon.
Slobs- Look Busy, Do Nothing
I had seen the Slobs last year with the Omegas (who they share a member or 2 with), and didn't think much of them. This EP however is a big improvement. I get a vibe of the Fix and Necros, mixed with good era Career Suicide. Pretty cool.
Sweet Tooth- Japanese Void
I know nothing about this band, I just ordered all of the new Cowabunga releases. This is some really fast distorted HC, somewhat similar to Duress. Great debut EP. The Mid-West continues to crank out awesome HC bands.
Not Sorry- Our Choices
I had liked Not Sorry's first 7", so I ordered their follow up. They've definitely progressed as a band, and they definitely nail that late 80's west coast straight edge sound. I always got a strong Chain of Strength influence from these guys. I feel like there's a lot more intensity in the vocals and playing. Their first 7" was their demo, plus 2 new ones, so they've had some time to get comfortable playing together. Fans of the straight edge and youth crew won't be let down that's for sure.
Includes a digital download.
Common Cause- s/t
I saw these guys when I went to Europe, and they played an Edge Day show in Sweden. I liked them, so when I got home I ordered this record. It's pretty good late 80's youth crew influenced, but definitely not by the numbers. At times I get a more Supertouch/ Burn vibe, in some of the more heavy riffs, but only in small doses. Definitely spans the early REV catalog for influence. The last song has a kind of groovy breakdown, that would make the Bad Brains proud. I actually think ending the 7" on a slower groove is awesome. I'd like to hear their other records for sure.
Includes a digital download.
Noose- It's Your Time.
I know I already reviewed their demo
HERE
, and this is their demo on a 7". I just wanted to add that for this they recorded a 2nd guitar track, which makes the recording sound way more full. If you liked the demo, get this! If you didn't get the demo, get this!
Includes a digital download.
Night Birds- Midnight Movies
Night Birds' first record for No Way is a lot faster than their previous record. "Midnight Movies" is the clear hit of the record, similar to "Prognosis Negative" from the previous. The 3 songs on the b-side are a faster as well. "Bad Biology" has a catchy chorus that will get stuck in your head. Similar to the Ergs, they play all of their songs 2x faster live, which I think makes them better. Excellent 7", bring on the LP!
Much Worse- Absolute Nightmare
I liked Much Worse's first 7", it combined 80's style US HC, with the huge tight loud sound of Japanese HC. This new 7" is also really good. Somewhat similar in approach to Stripmines, though maybe nodding more to the Fix than Negative Approach. I also get a vibe of almost a more stripped down version of Raw Nerve as well. I'm not really into the cover art, but the inside type layout rules. Pretty cool record overall.
Porcodio- Nessun Posto Per Me
This is a kind of weird project, half of Government Warning plus the drummer of Anti You on vocals. The songs are sung in Italian, and they're going for that Italian HC sound. It's no Indigesti or Negazione clone, but it is real fast and killer. The vocals have this high pitched whine to them, kinda like HR (Bad Brains). This is a really cool 7", but being as it's on Lengua Armada, it probably sold out months ago.
Totsugeki Sensya- Chain Of Tragedy
Another record I took a chance on being on Lengua Armada and Japanese. Pretty good hardcore in a style similar to early DSB. Nothing amazing, but pretty decent.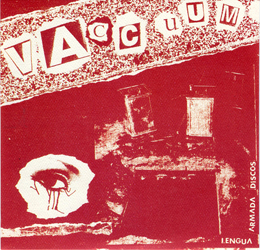 Vaccuum- s/t
I had no idea what to expect from this record, I just bought it because usually the Lengua Armada releases don't stay available very long. Now I'm all for a raw recording, but holy fuck I can't hear anything. The recording quality is that of a live tape, or practice tape. You can barely make out any music, aside from a few guitar leads, but otherwise it's a solid wall of noise. Fuck you Vaccuum, fuck you Lengua Armada, I want my $5 back.
Murder-Suicide Pact- Do It Or Don't
Remember these guys? An ex-Failure Face band from FL, who was more productive in the late 90's/early 2000's. Last year they recorded a demo, which had 12 songs. Those songs were released as this 7" and another. Murder-Suicide Pact play HC along the lines of My War era Black Flag, but unlike a lot of artsy weirdos jocking later Flag, these guys sound meaner. Most of the songs are mid-paced, but they're powerful. Give it a shot.
The Shirks- Cry, Cry, Cry
I actually have no prior knowledge of the Shirks, but got this from Grave Mistake. Based on the illustration on the cover, I was expecting a more indie/ power-pop sound, but it's actually a bit more garage rock. The song "Prostitution Summer" on the b-side reminds me a lot of The Kids. This is actually a real good 7". Probably more for fans of The Ladies and Night Birds in the Grave Mistake catalog. This is really good, and apparently they have 3 other records out there.
Includes a digital download.
10":
Short Fast & Loud 10 Year comp
This comp comes with the new issue of S,F & L, and has some of today's higher caliber fast bands. Coke Bust, Extortion and Seein Red are the real standouts. A lot of the songs kind of blend together, but overall I think Fastcore freaks will love it. The zine is also awesome, and it's priced so cheap that it's almost like the zine is free.
12":
Cock Sparrer- Shock Troops
Pirates Press is where all the labels go to press their records when they need some crazy printing or vinyl color. Now Pirates Press has taken the task of re-pressing the Cock Sparrer discography, and doing a killer job at it. The cover is a nice thick stock, the dust sleeve is embossed, and the vinyl (2nd press) is a tri-split of red, white and black. Since this record is like 25+ years old, I won't go too in dept on the music. They play a mid-paced style of British punk, similar to Sham 69. "Watch Your Back" has always been a particular favorite. This would make an excellent upgrade to an old beat copy, or a great opportunity to get this on vinyl if you don't have it already. I hope Pirates Press doesn't do a camo patterned vinyl, because I'd have to buy it again.
Omegas- Blasts of Lunacy
I absolutely LOVED Omegas' demo, but thought the 7" wasn't as good, so I had high hopes for the LP. Luckily I wasn't let down, and the LP seems to fit more with the demo sound than the 7". They've perfectly captured the sound of obscure early 80's NY and NJ hardcore/punk bands. A perfect soundtrack for riding dingy NYC subways. The songs vary pace- some fast, some slow, some long, some short - the perfect way to write an LP. The cover art looks like some sort of Euro techno LP, but I guess it fits the simplified circular art of their other releases. This will easily be a top contender for best LP of 2011.
Slang- Life Made Me Hardcore
I missed Slag on their recent tour of the US, and after this LP, I'm really kicking myself. Apparently their earlier stuff is more along the line of Madball, but this record is basically Burning Spirits style with breakdowns. I suppose balancing the NYHC with Japanese style HC to give them their own unique sound. Luckily I like both styles. I got the European pressing, which has a different (better) cover and gatefold with lyrics inside. This is real good, damn good in fact.
Vaaska- Ruido Hasta La Muerte + s/t
This record was on a lot of people's top tens last year. Luckily I was able to snag the Hardware pressing, which has the new LP and first LP all on one 12". Vaaska play a style of fast D-beat with Spanish vocals, and have a cool guitar tone. I believe they have members of Desconocidos or BSA, as they are from TX. The first 7" is a bit more raw, but also killer. This record is fucking awesome, try to track down the Euro pressing to get both LPs at once, but get it any way you can.
Shards- s/t
I saw these guys on tour a few months ago, and picked up this LP. Prior to this they did 2 tapes, which I slept on, so this is my first exposure to NC's Shards. Their sound is a mix of No Idea style folky punk with doubled up vocals, mixed with early 80's California goth punk. It has a dark atmospheric feel to it, and the cover art is real obscure. I think there are members of Sorry State Records alumni Whatever Brains, Logic Problem and Crossed Eyes. The LP is pretty cool, but I liked them more live.
Includes a digital download.
CD:
Night Birds- Fresh Kills vol. 1
This compact disc contains Night Birds' 3 7"s and demo. Since I already reviewed their s/t 7" HERE, and their "Midnight Movies" 7" above, I'll focus on the other releases. The CD starts out with Killer Waves, which was on a 2 song 7". The song is real good, and I thought their decision to start the CD with the A side of that 7", and end the CD with the B side. The demo I felt doesn't have the same punch of their EPs, and the surfy guitar isn't as present. For those new to Night Birds, this is a perfect way to catch up before their LP comes out. The hits on here are Killer Waves, Midnight Movies and Prognosis : Negative. Between the B side of the s/t 7", the demo and the instrumental, the CD ends a bit slower. I am glad that the more recent songs I like the most though. I like the cover art, it looks like someone's dirty floor who's really into Night Birds.
demo/tape:
Birth Deformities
(tape)
I LOVE this demo. Members of Culo and Nick (of Cowabunga Records) belt out 7 fast hardcore/ punk tunes. Taking influence from early 80's NY/NJ bands, similar to the approach of Omegas. This is probably one of my favorite demos, and gets a lot of spins around here. I liked it so much, I offered to re-press it, but the band opted to continue making their own copies. Definitely track this down though.
Black and Blue- Make Way
(tape)
It seems like every post I'm mentioning some killer new Chicago area band, but I'll be damned if there isn't a steady stream of awesome bands coming from there. This band has current members of Noose, RazorXFade, and Thought Crusade; but remind me more of Wasted Time. The music is fast, but heavy, and the vocals are intense in a Poison Idea sort of way. Before this tape was released, a version was on the internet with some samples, but the tape rages straight through. Keep an eye on these kids.
X=- Seeing Grey
(tape)
Damn, let me first talk about this crazy packaging. It comes in a ziplock bag w/ dots, which came from punching holes through the eyes of the faces on each panel of the wrap around cover. The holes line up to the spools of the cassette, and a screw and bold hold the whole thing together with a tiny lyric booklet stapled to the inside.
Art4Punks
has a nice writeup about the cover, but it makes me feel like I need to step up my design ASAP. The band is a studio side project between 2 people, but the music is killer. Musically it sorta reminds me of OFF, in an old dudes playing fast punk kinda way. It's really good, I look forward to future releases, but mainly to see how they'll top that packaging.
RazorXFade- tour LP
(tape)
I got this tape of the RXF LP when they came through on tour. I'll do a full review once I get the LP version, but I can say that if you liked the demo, this will blow you away. If you didn't like the demo, this will make a believer out of you. Pre-order it
HERE
, it should be out in July.